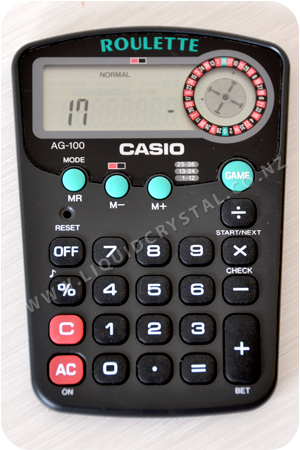 By all accounts Casio took a punt in the early 1990s to attempt to emulate their success of a decade ago by producing a set of four game calculators.
One of these, the AG-100, incorporated a quite reasonable Roulette game where you have the option of betting on the red/black, or 1st 12 2nd 12 and 3rd 12, or actually selecting up to five individual numbers on the wheel.
Added to this is the ability to play against a computer (calculator) opponent as a change from pitting yourself against the house.
It's one of those calculators where the manual would certainly come in handy to help get to grips with the game more quickly, but then again there's a certain amount of satisfaction that comes from learning it yourself.
Great fun, particularly if you are a casino-goer and need a fix at work!
The case design is quite rounded and buttons are soft-touch rubber – design-wise it was a step away from the straight lines and metal/plastic construction of the 1980s calculators and Roulette was a reasonably safe option for a test game (to see if there was still a market for calculator games) much like blackjack would have been.
Unfortunately, some might say, handheld games and game consoles had made their mark on the schoolyard where the calculator once reigned supreme and these calculators were not anywhere near as commonplace as those game calculators of the 1980s. It is safe to assume these were the last of the game calculators Casio produced.