The original and still the best – Casio's MG-880 was released in August 1980 and began a decade of integration of calculators and games for the Casio company and its competitors.
Kids lucky enough to have this amazing toy could happily charge their classmates to play, although not having a volume control or mute button meant games were confined to break time and lunch, where the player could expect to be surrounded by admirers ready to applaud or scorn his ability.
It was rare to see the MG-880 actually used as a calculator, so fun and addicting was the digital invader game. It was as close to space invaders as you could get without any graphics apart from the numbers available on an LCD screen, so was dubbed the 'space invader calculator'.
Such was the success of the MG-880, Casio duplicated it in several forms – the MG-660, MG-770 and MG-890 calculators (each different in their own right, but sharing the same game), and in watch form in the QW134 module – CA-85, CA-851, CA-86, CA-90, CA-901 and updated models CA-53 and CA-503 with the QW433 module.
Still fun to play many many years later – just like the original space invaders!!
UPDATE: I found this excellent photo of a bloke leaning on a Space Invader machine / Kiss pinball, circa 1981. Most interesting though is what's happening in the bottom right corner – see that calculator? Even with video games and pinball machines nearby, the MG-880 was still getting some love!! See more of these photos from the early days of New Zealand's pinball and video game awakening here.
Wait…what?
I was repairing a FX-880 and discovered something interesting; Casio had used a different calculator for the caseback and had just stuck a sticker over the top.
Unusual…or so I thought.
Then while looking at a few different MG-880s, I found this:
Why would one have a sticker and one not…surely they are both the same…?
Think again —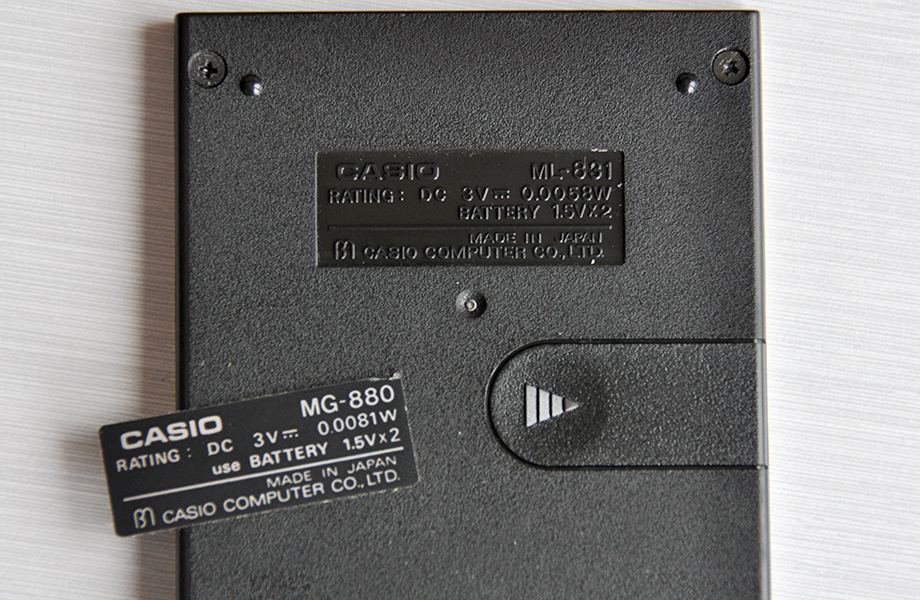 The MG-880 had a ML-831 caseback. There's no doubt there will be other calculators like this and I'm guessing it's because one model wasn't selling well and the other was selling better so they thought they had better use up existing stocks of cases.
If anyone can shed more light on this though…let me know.
I'm not selling any more MG-880s from this site currently.
Please check www.trademe.co.nz or www.ebay.com if you're interested in buying one.