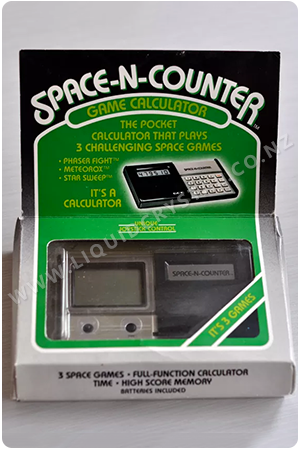 General Consumer Electronics (GCE) were best-known for the vector screen home arcade console Vectrex, popular in the early 1980s.
Prior to that, though, they produced three game watches and two game calculators that are among the rarest and most playable of the era.
The watches — Game Time, Arcade Time and Sports Time came first, then were followed by this calculator and its partner model Chase-N-Counter.
Unlike most game calculators, the game and calculator didn't share the same LCD screen. Instead you swapped from one to another by sliding the screen from one side to the other. This would likely have pushed production costs up, butI'm yet to see another design like it since, so is very unique.
Creator of the games, Tom Sloper, gives an in-depth rundown on the production process at his website — it's a great read, from someone who was at the heart of game design in the golden age of handheld gaming.
These are hard to find. On the plus side, it is possible to find them boxed and unused which is a bonus, if you have deep enough pockets to afford one.
While you're waiting to find one at a good price, you can take a look at the manual here, to give you a taste.
You may also like: