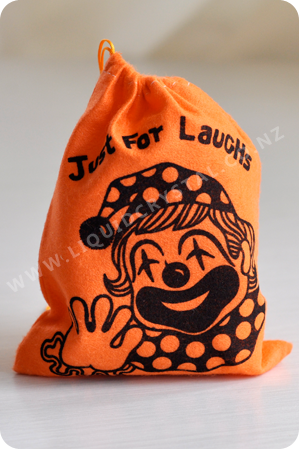 This is the second of two non-LCD pieces on this site and, like Dracula's bank, are here because they were among my favourite childhood toys and I was compelled to share after finding them on eBay after a long search!
In 1978 my family went to Fiji on holiday and it was there I discovered the laughing bag which, it has to be said, blew my eight-year-old mind!
It was a record player in a bag and, with only a single C battery, would play over and over again at the press of a button. Naturally my parents grew tired of it long before I did and I imagine I burned through a mountain of batteries to hear 20 seconds of Joker-style laughter.
Not that that's all there was; like I said it had a record player in it and so it came with extra records! Not only was there the laughing record (incidentally all records were double-sided and almost all had different A and B sides) but I also had the choice of crying, coughing, baby crying, cow mooing and bird tweeting – all of which were hilarious to me. Baby in a bag – classic!
Like all boys who grow into teenagers, the lure of wanting to find out exactly how it worked meant some misplaced screwdrivering, plastic bending and parts loss as I delved into the player's innards so unfortunately it was binned sometime in the early 1980s.
Technology replaced the record player and, while you can still find laughing bags now – an abundance of them in fact – they are generally button cell-powered with no moving parts and the laugh track recorded onto something made of silicon.
While my laughing bag record player was consigned to the landfill all those years ago, I still kept the records in the hope that one day I'd be able to play them on something else. Unfortunately my search for a replacement online was kind of fruitless until I came across an eBay auction from a Scottish bloke whose mother used to run a joke stall at a Glasgow market in the 1980s.
Jackpot! Won the auction and hunted out my old records to give them a spin once again.
But wait. While this replacement unit seemed identical to the much-loved toy I remembered, it had some pressing differences.
Where there used to be an eyelet and flap to open the record player and change disks there was now only the holes where these things should have been.
And this hadn't been done by the bag's owner (this was a NOS product) — it had been done in the factory. Extra holes had been made and filled with melted plastic to make the unit impenetrable. Well, impenetrable for an eight-year-old, not an adult with a thirst for history!
Out comes the dremmel and a likely sized bit, and the melted plastic is gone, revealing the player in all its glory!
And you know what? All my old records played great in it! Interestingly the flip side to the record that was in it, was another laugh track which sounded more like a female, possibly a child, and probably Asian. Intriguing.
Another toy I had which I can't even find reference to on the net was a trumpet with a similar record player but was operated by blowing it – no batteries. The trumpet suffered a similar fate to the laughing bag but even earlier, so was amazing I still had the record from that (it's the blue one) and the Caisson Song once again came back to life too.
Most surprising was the 'non' opening back to the unit though; back when I got my original it's unlikely these things would have been being pirated in great numbers since there wouldn't have been much money to be made.
Unlikely that this new unit was a knock-off either with it's Made in Japan and patent pending inscriptions, along with the brand name, AICO, which is a well-known novelty manufacturer in Japan.
I can't tell for sure, but aren't losing any sleep over it – well, unless I have nightmares from the creepy Joker voice doing the laughing!