I always meant to write this tale once the whole sorry saga was over and done with, me having been vindicated, and the villain of the piece dealt with by eBay appropriately.
Unfortunately things don't always turn out the way you think they should and all you can do is suck it up and move on. Still, in this case, you be the judge and make up your own mind from the details below.
June 2010 and I had a number of watches in a box doing nothing so decided to sell them in lots with the usual $0.99 reserve and see what the market wanted to pay.
Among them a Seiko G757-4020 which I had been able to replace with a new circuitboard and LCD as it had been totally dead and none of my usual methods could breathe new life into it.
This next bit is important…it's a bit detaily but you'll see the significance later on…
The G757 is a pretty special watch. It was one of Seiko's most feature-packed models and even made an appearance in Octopussy on the wrist of one James Bond.
It also had a very temperamental module prone to dying completely for no reason, particularly if a battery was left to go flat inside it.
There were a variety of combinations of circuit and LCD for the various models (and we're talking a fair number of models – 4000, 4010, 4020, 4030, 4050, 405A, 5000, 5020, 5030, 5040…you get the idea).
But there were three main variations – here they are below:
The 4050 version had the rounded square printed on the glass/crystal and the 5020 version had the rounded square printed on the LCD. Other than that, they were functionally identical.
The other one, though, had a number of differences and, was apparently produced later than the other two but in smaller numbers. Finding one is not easy. And finding two in the same model of watch is rarer still.
Function-wise the 'new' G757 only has four menu selections on the right-hand side whereas the 4050 and 5020 have five. The date is also floating above the seconds, whereas on the other two it's the day that floats. NB You can get the date to display on the other two but instead of floating above the seconds, it replaces the seconds. The new one also doesn't have the seconds incrementing inside the rounded square in the top left. Instead it shows the time in analog format, giving you a dual time option (which is the additional menu function the other two have).
So, in reality, quite different watches and pretty easy to spot if you fancy the G757.
But what does this have to do about not shipping to Canada?
Plenty as it turns out – one of the watches I was going to sell had the 'new' circuitboard and LCD in it so was quite distinctive.
Here's the original photo from the auction –
Not a bad lot really – G757s always sell well, and so does the 0624-5009 even with a broken LCD.
I put the usual disclaimer about not shipping to Canada on the auction but, lo and behold, received this email:
And he had a point – particularly with 955 feedbacks and a positive percentage of 99+…not perfect, but not bad by any stretch. Still I thought better safe than sorry, so penned the reply below (my bit's at the bottom and his reply is at the top).
So I figured what's the worst that could happen, and lifted the exclusion to let him bid. My bad.
Got a message from eBay on 11 July (watches had been sent 14 days previously – not 14 business days, just 14 days).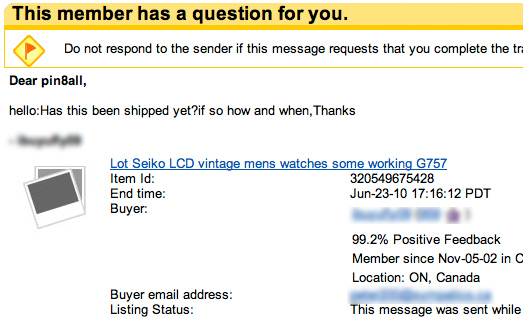 Again, here's my reply at the bottom, and his above…
And what happens a couple of days later…this –
Seriously? What part of 'expect lengthy delays to Canada' did he not understand? Along with his assurance of 'I know everything is at my risk'?
What happened next truly amazed me; within a day this was escalated to Customer Service to make a decision – ONE DAY!!!! And, sure enough, that day I received this –
This was two days before the watches were even meant to arrive.
I wrote to eBay and received a reply :
Message: Greetings, my account has not been restricted (yet) but I suspect it will as I do not intend refunding the buyer in this case – 5003072956 – because:
The buyer was informed I did not ship to his country; he promised to assume all risk for the transaction and so I relented.

Buyer was told posting to his country often encountered long delays and the minimum time for delivery would be 10-14 working days (he complained to ebay and was issued a refund by ebay after only 12 working days had elapsed since the item was sent).

Ebay did not ask for my side of the story at any time.

I believe to issue a refund in this case is nothing short of fraudulent as there is no incentive for the buyer to pay when the item does arrive (probably within the originally estimated timeframe).

Investigation of non-delivery will take 30-60 days by NZ Post so there is no reason the buyer should be refunded within this period for the reasons stated in (4) above.
Please advise what you intend to do about this. It is one thing to offer buyer protection, but given the circumstances I do not believe I am at fault in any way and should not be penalised because of it.
Dear pin8all,
Thank you for contacting eBay in regard to the watches (item #320549675428) that you recently sold. I am sorry that it has taken so long to reply to your message, as I know your time is valuable. Unfortunately, we are having an unusually high email volume right now.
After reviewing your email, I understand that you feel this buyer is fraudulent and you are worried that your eBay account is going to be restricted. I know this is a difficult situation to be in and I am sorry to hear that you no longer have the item. I hope to be able to explain what our policy is regarding tracking information.
Usually just one case like this will not result in any kind of restriction on your account. To ensure lower-volume sellers are not penalized as a result of a single opened case, it will take at least 3 cases for eBay Top-rated sellers and at least 4 cases for all other sellers before consequences based on cases are enforced.
I understand you have shipped this item to your customer, but at this time we do not have tracking information that is verifiable online. Please keep in mind that sellers are responsible for ensuring that their customers receive their items. I hope you can understand that it would be unfair for us to overturn our decision without first verifying that your customer has in fact received the item. It is very possible that the item was held up at the post office or was lost in shipping.
Without tracking information, we have no way of knowing for sure. At this point, I recommend you contact the shipping carrier used and see if they can provide any documentation showing this item was successfully delivered. If they can provide you with official documentation specifically showing delivery, please give us a call. We will have you fax that information in to us for review. Please note that a shipping receipt will not prove delivery – it will only prove that the item was sent out.
To help you avoid a similar frustrating situation in the future I would like to provide you with some information that may prevent you from losing a claim. For "item not received" claims, sellers are protected from losing a claim if they provide evidence of delivery to eBay.
Proof of delivery is tracking information from a shipping company that clearly displays:
The delivery status of the item as "delivered"

The date of delivery (which reflects the seller shipped within stated handling time)

The recipient's address, displaying at least the city/state or ZIP code (or the equivalent) of the address listed in either the eBay Order details page or the PayPal Transaction Details page And, for items $250 USD (or local currency equivalent) or more, proof of the recipient's signature to confirm delivery is required.
In summary:
It will take at least 3 cases for a seller to experience consequences based on cases.

Continue to work with your shipping carrier to try to obtain proof of delivery.

In the future be sure to ship items with tracking that meets the specifications mentioned above.
pin8all, I couldn?t help but notice that you have been a part of the eBay community for 10 years now. Thank you for your continued loyalty and business. We truly appreciate you as one of our valued customers.
Sincerely,
Jacob Mo.
eBay Customer Support
So no love from eBay, but at least my account wasn't going to be unceremoniously cut off…although this message appeared at login and has NEVER gone away, meaning an extra click every time I have visited eBay for the past two years…
This was nothing more than a fraudster deliberately rorting the eBay buyer protection system for his own financial gain. How do I know this? Because on 17 January 2010 he listed his own auction, for some digital watches. Here are a couple of photos of one of the watches, and I've included my original shots of the same watch with some interesting areas marked. His auction pictures are on the left, my originals are on the right. Notice any similarities? (click the images to see larger versions).
Call me crazy but they are too similar for this to be a coincidence.
I dragged up the old email (above) and reported this to eBay (with pictures) and this is the response I got –
Hello pin8all,
Thank you for contacting eBay regarding your concerns with <name removed>. After reviewing your email, I understand that you believe this member is selling items they had previously claimed as not received.
We're concerned about policy violations on eBay, and we count on members like you to let us know about possible problems. In this case, we thoroughly looked into your report about <name removed>.
Because we respect the privacy of all eBay members, we can't give you the details of our investigation. However, I can tell you that we've taken the appropriate action based on our policies. Our actions may include issuing a warning, limiting buying and selling privileges, or account suspension.
Buyers who we believe are attempting to commit or committing fraud are governed by the "Abusing eBay" conditions of our User Agreement. Fraud in this case can include, but is not limited to:
Making claims that are not backed by a good faith dispute.
Making claims in addition to attempting to receive reimbursement from another source (e.g., a credit card chargeback)
Any other means by which one can unjustly benefit from eBay Buyer Protection.
Buyers who fall under the "Abusing eBay" conditions are subject to our remedies as described in the User Agreement.
In addition, we reserve the right to temporarily, indefinitely, or permanently suspend your coverage under the eBay Buyer Protection Policy, immediately and without prior notice, if we suspect abuse, excessive claims, tampering, or interference with the proper working of eBay Buyer Protection.
I recommend that you file a complaint with the Internet Crime Complaint Center (IC3). The IC3 is a partnership among the Federal Bureau of Investigation, the National White Collar Crime Center, and the Bureau of Justice Assistance. They monitor cybercrime and send information to the appropriate local, state, or federal agency.
Unlike on eBay, you won't be able to close a complaint that you open. So you may want to gather information about the case before you file a complaint.
I took some time to review your account, and I see that you have been registered on our site since Dec 29, 2000. Thank you for continuing to do business with us over the years. We truly appreciate you as one of our valued customers.
Sincerely,
Keiman
eBay Customer Support
Trust and Safety Operations
So effectively eBay have done nothing but make it a pain for me to login (and still have the 'you owe us $250' message whenever I access my account) and wouldn't tell me exactly what action (if any) they took…they did suggest I file a complaint with the internet police but the person involved is still buying and selling so not much in the way of restrictions there…
UPDATE: Not convinced? Fair enough. It COULD have been a coincidence. But it wasn't. In March 2012 the same person listed another lot of digital watches – below is a picture from this auction, and again the original photo I took back in 2010…(click for larger versions)
What you are looking for … the missing paint from the I in SEIKO on the watch on the far left…still a coincidence?
OK, how about the LCD bleed on the left of the Seiko A714 (middle watch in the top photo, far left in the bottom photo)…still a coincidence?
And the solar watch with four front buttons…not exactly common…still a coincidence?
Ebay didn't even bother replying this time when I sent them the details, which comes as no surprise, they actually don't care.
And so, at the end of this long and drawn out saga, you now know exactly why I don't ship to Canada. Apologies to any honest Canadians who wish to bid on any of my auctions. You can't. Blame Don and Peter for that but I will never open another auction to Canadian bidders, nor sell to Canadians via this website.