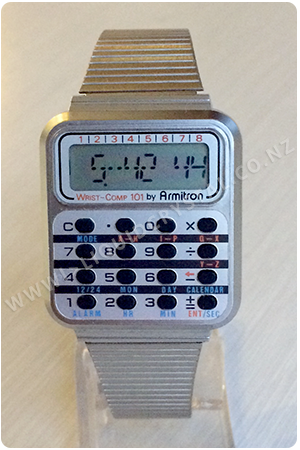 Back to the Future fans might recognise this watch — or possibly only if they've watched the Blu-Ray on a 4K tv — but it's widely considered this is one of the watches from the iconic film series, along with the Casio CA-50, Casio CA-53W and Seiko A827.
This is the Armitron Wrist-Comp 101.
When found this one for sale, it was in an auction with the Advance car racing game watch and the Casio CA-53W whose keypad I needed to fix a CA-503. So one watch I had to have (the Advance), one watch I needed to fix another (the Casio) and one watch I'd been looking for for a while (the Armitron) – I figured all the planets must have aligned and bidded accordingly!
Auction won, and international postage sorted and the Wrist-Comp landed at my place. It looked good on first inspection, although the screws were hard to remove as they were gunked up with something. Once the back was off I found the original (and leaking) battery which was swiftly tossed and a new CR1620 added.
Reassembling it, the display was a bit odd and it didn't function at all well, so disassembled again and tested (holding finger on back of case rather than reinserting the screws and had it working great. Screws back in and we've got a 100% Wrist-Comp.
I'm especially glad I found these instructions (although I had worked out how to set the time/date already) – this is one advanced databank watch!
Calculator/time/date/alarm functions are all pretty straightforward. Adding, selecting and deleting databank entries is where this watch really shines!
Select one of the red buttons to get a chunk of the alphabet (eight letters at a time) then select the corresponding number on the keypad to get to the individual letter. From there you can manage the alphanumeric characters the same way as previous – select something, then choose the corresponding number on the keyboard to change.
Adding names to the databank isn't a quick process, and if you had to enter your whole address book it would take an eternity. But one-at-a-time entries can be done in a minute or two each.
Fantastic watch, particularly for the innovative way you manage the databank using only the 16 buttons available on the keypad.