Did anyone actually see Blue Thunder the movie?
You'd think it was in every watch collector's top 10, given how the watch that made an appearance in the movie — the Casio AA-85 — is so sought after and expensive in good condition.
Whether Casio knew they were onto a good thing with the [103] module or if they already had the heads-up it was going to be featured in a movie so thought they should push the boat out a bit is anyone's guess, but they made a lot of watches with this module, possible the most of any single module.
The 103 can be found in the following models: AA-81, AA-83, AA-84, AA-85, AA-86, AA-91, AA-92, A201, A202 and A203.
Each model is slightly different, different case materials and shape, different bracelets, different crystal graphics, but it's essentially the same watch.
This is my favourite, the A203.
The case is stainless steel, not plated, so it doesn't suffer from corroding or chipped plating, and the bracelet (B226L) blends more nicely than some of the others. The caseback screws on, rather than being a press fit, and it feels more solid than some of the other models.
The 103 module has some cool features, firstly the dual-LCD. You can switch from the usual digital number display to an LCD analog display at the press of a button. But it's the graphics options that the analog LCD offers that set it apart from other watches (except the follow-on models of AE-20, AE-21 and AE-22).
When the alarm sounds (or the two bottom buttons are pressed) or the countdown timer finishes, the wearer is treated to a basic but eye-catching animation of LCD segments that really does look quite funky — moreso in the early 1980s when the watches were produced.
The downside to the 103 module is the quality, or lack thereof, of the LCD. A lot of them have bleed, and by a lot I'd estimate around 80% which is why they're (a) rare and (b) expensive if you find one with a good LCD.
It's a shame — and you'd think with all the different models they made it should be easy to find one. Of course if you have (very) deep pockets you can get one reasonably easily…they're not THAT rare…but you won't see much change from $200-$300.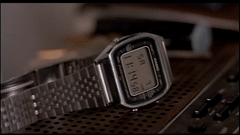 While it's most commonly known as the 'Blue Thunder' watch, you can see the 103 in the Eddie Murphy/Nick Nolte film 48 Hours as well. And seeing the treatment it gets, it's surprising the LCD didn't start bleeding on their one.