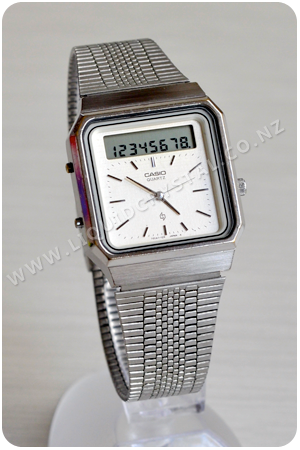 Casio's AT-550 (and its variants, the AT-551 and AT-552) used the [320] module and were incredibly technologically advanced for their time (I know I say this a lot, but you have to remember that this was 1984 and it would be a good 10 years before similar technology appeared in Palm devices – and maybe even SMART devices today!)
So Casio made oodles of analog-digital watches and most were reasonably ho-hum, analog time with digital alarm, date and stopwatch.
But the AT 'Janus' watches were something else. They included an eight-digit touchscreen calculator.
And not the kind of calculator where the touchscreen was a grid and each square represented a calculator key (like the TC-600). This time the entire touchscreen could be used to 'write' the number or calculator function and the watch would recognise what had been written by the user's fingertip and perform the calculation. If reading that doesn't blow you away, it should. Again, this was 1984 — Apple had just released the first MacIntosh!
Casio went a step further with this in the DB-1000 when they added database (alpha-numeric characters) functionality, but they had a full LCD screen to work with there, on the AT watches, there was only eight LCD digits at the top of the screen.
This watch really is amazing, fully working models change hands for around US$200+ and it's worth it.
The downside? Sometimes they break. Usually it's the analog portion that stops working (and these are a nightmare to disassemble, I wouldn't recommend it unless you know what you're doing). I've transplanted pieces between like AT models with great success and, theoretically, you could replace the analog with one of the more generic analog/digital Casio units (which are much cheaper) but I haven't tried this so am only guessing.
The AT-552G is, for some reason, the most common of the AT series. I'm not sure why but that's generally the model you'll see on eBay and can still be had for a reasonable price. I've owned several of the gold ones but don't like wearing gold all that much. The AT-550-7 in the photo above, though, is my favourite of the lot and will often give it an outing. Definitely one to buy if you see a 100% working model for sale. If either the analog or digital portion is broken though, you possibly shouldn't bother.