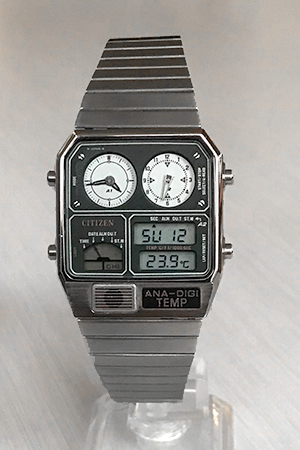 Citizen's ana-digi-temp watches have been iconic since they first appeared in the 1980s — so much so, they are still being produced today.
One of Citizen's sub-brands, Independent, makes some quite wild variations although they're mostly cosmetic as the modules and functionality remain faithful to the originals.
There are three main variations – the 8980, 8982/8988, and 8984. All use the same circuitboard, but have different layout variations of the LCD, and the 8980 has the temperature sensor on the crystal while the others have it in the metal case.
Still wildly popular, if prices on eBay are anything to go by, the Citizen ana-digi-temp watches have a perfect blend of style and function.
Firstly the analog section. You have the current time in the left hand analog window; the hands and (usually) four points around the dial have luminous paint applied.
The other analog window, with the single sweep hand, has three functions. By default it acts as a second hand, but can also indicate the hour of the dual time function, or the hour of the alarm time. It, too, has luminous paint as to four points on its dial.
To the digital functions, you can display the time digitally (in 12 or 24 hours) along with digital seconds. Or display the day and date coupled with the current temperature (in °C or °F) — in this mode you can have the temperature sensing every second, or every minute.
Next is the alarm-set screen/current temperature, followed by dual time and local temperature. The final digital screen is a 1/1000 second chronograph.
The watch also has a light in the digital section, and an hourly chime.
Non-working versions of these are generally due to battery corrosion (there are some small, and important, traces on the circuitboard near the battery) or the analog portions getting gummed up with old oil.
If the circuitboard hasn't been destroyed by battery damage, they can often be resurrected though and are a great watch that attracts plenty of attention.