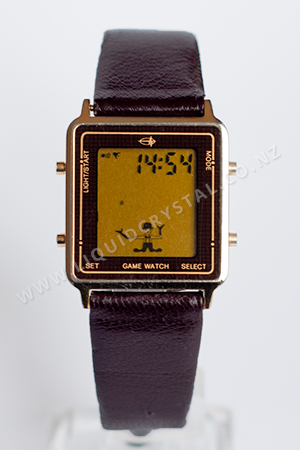 People who played Nintendo's earliest Game & Watch handhelds will remember this game well — chances are it came out about the same time.
Nintendo called the game Ball and it appeared in their first ever Game & Watch (AC-01) released in 1980.
By the time they stopped making the Game & Watch series there were 60 in all, so Ball really sparked a gaming phenomenon which lasted a decade and even saw a resurgence in recent years when a limited number of G&Ws were re-released (including Ball, under the name Club Nintendo, to celebrate the 30th anniversary of G&W).
The pedigree of this watch is relatively unknown. While the logo bears a striking resemblance of the Curtis brand it might be just be a ripoff of it (or be a total coincidence). The watch case is the same as the Curtis Space Invaders watch and features are the same so I'm comfortable calling it a Curtis.
The character is different to the blob-style character in the Nintendo game — with his bowler hat, this character is often compared to Charlie Chaplin so can be seen sometimes as the 'Charlie Chaplin Watch'.
The watch can display in 12/24 hour time, and the date. There's a daily alarm (just beep beep, no melody) and an hourly chime.
There are two games which, although they follow the same concept, have their own unique style. Both have sound which can't be turned off.
In Game 1 there are two balls flying through the air which must be juggled by moving the player's arms to one of three different positions. You score a point for each touch of a ball. The balls move at the same speed but because the outer path has further to travel than the inner, your timing has to be good as your score and the game speed both increase.
Game two is similar but there are three balls, flying in different directions, and it runs a bit quicker. The upside is that you get 10 points for each ball touch so there's the potential for higher scores if you can handle the quicker speed and more balls in the air. The game speeds up until it hits 1,000 points then slows down briefly before speeding up again.
This watch came in gold and silver cases and manufacturers who put their name on it included Time Zone and Lotus. They don't appear for sale often (and are probably hidden in watch lots on eBay since the 'game watch' lettering is quite subtle) so many thanks to Nathan for selling me this one.
Just like the original Nintendo Ball, though, it's an entertaining game watch to play and good scores are possible with a bit of concentration!