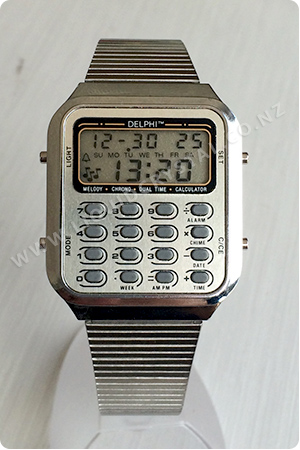 Delphi watches aren't all that common, and the ones you do find are pretty basic and reasonably low quality (if you've got a bucket of generic parts watches, chances are there's a Delphi in there).
So it came as quite a surprise when this cool little calculator watch appeared with the Delphi badge. I've also seen a similar watch labelled as Dundee, with the same case and some of the same graphics on the keypad, but with a different module and functions – so maybe just a coincidence.
There's a lot going on with this watch. Time (in 12/24 format) along the bottom, and the other functions (seconds, date, alarm, stopwatch, dual, calculator) along the top. Day of the week sits in the middle, and icons for hourly chime and alarm on the far left.
The best part of this watch (if you have other similar calculator watches) is the melody alarm. It plays Mozart's Eine kleine Nachtmusik (A Little Night Music) which is a great piece of music, and you get almost a minute of it when the alarm goes off, or when you test the alarm (alarm mode, bottom right button). Here's a video (not mine) demonstrating it.
I'm a fan of calculator watches and melody watches, and haven't heard this melody in another watch, calculator or not.
This particular watch arrived ex-eBay with the usual "doesn't work, might just need a battery" which is similar to buying a house which has been burned down and has the seller description "needs a bit of a tidy".
The original battery was still inside and had, over time, eaten its way through all the gold plate on the battery connector and started making its way across the other metal traces in a bid to devour the chip. Fortunately it was stopped in its tracks and some careful cleaning and soldering and conductive paste and cursing…and voila! it lives again.
There are a few of these appearing on eBay at the moment (late 2014) in NOS condition but not working and I suspect they will all have the same issues.
Still, for $20-30 you can't go wrong and they're pretty basic inside if they need a clean or a fix.
Here's the setting instructions for the time and date, as requested below: