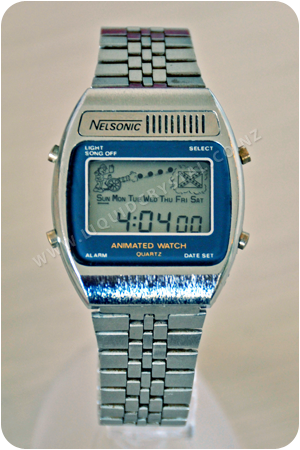 Anyone south of the Mason-Dixon line is going to love this watch…and all you Yankees too!
So promised the 1981 Montgomery Ward Christmas Values catalog and the public must have loved them in droves – so much so that they are almost impossible to find 29 years later.
While some Nelsonic watches from the early 1980s are still reasonably plentiful in (second-hand) number – like the Space Attacker – this particular watch is a real rarity.
The text on the catalogue advertisement proclaimed:
Dixie Cannon Alarm 6-digit LCD alarm celebrates the South.
FEATURES: Anyone south of the Mason-Dixon line is going to love this watch…and all you Yankees too! Something to brag about. It replaces the beeps and buzzes of traditional designs with a
song and a cartoon. As the alarm is triggered, a little animated soldier lowers his arm to light the cannon. Then everything happens…the cannon goes off, the cannonball travels across the top of the watch, the Confederate flag goes down in a blaze of glory to the stirring strains of "Dixie!" Gets you lots of attention and gives you the hour-minute-second, month/date. Silvertone bracelet, Hong Kong. Ship wt. 12oz………39.95
I've seen two of these watches on ebay in roughly 10 years – and one had a smashed LCD – obviously there would have been many others but more than likely have been buried in badly described lots of 'junk watches'.
This particular one looked to have LCD issues in the auction advertisement, but fortunately the problem area turned out to be the reflector strip behind the LCD which was easily replaced thanks to a donor watch and after a clean and polish looks fantastic.
The melody and accompanying animation are the fun features of a reasonably basic watch, but steeped in American history.
Surprisingly, though, for a watch this rare, I was also lucky enough to find another version distributed by a different watch company – Waltham.
Almost identical, these two watches have subtle differences in the LCD but may well have come from the same factory.
I sold the Waltham watch I had (and regretted it almost immediately) and had a long wait to find another. Finally one appeared on eBay in a lot of dud watches, I put in my 'I'm interested, don't sell it to anyone offline' bid and prepared to bid it up when the auction was closing. As always, the best laid plans often go astray and I was in a meeting when the auction finished – for US$12.22!! I was gutted to have missed out.
Lamenting the fact to another collector, he revealed he had won the auction and was prepared to sell it to me for the same price plus postage. Anyone who has dealt with Robbie (aka Casionerd) will know how generous he is, and I was stoked he'd do this for me.
Watch arrived, and I went to work with the cleaning. The watch looked like it had its original battery which had leaked throughout the module and eaten away at the LCD reflector so I made sure I got rid of all traces of battery acid and swapped out the reflector. Cleaned the case, crystal and band, inserted a new battery and…it didn't work.
Well, the light worked, but that was it. Undaunted I stripped it again, cleaned every single part (again!), reassembled, and … same again. Just the light. I did this a couple more times over the following fortnight and had pretty much given up on getting it going myself. The bloke I had sold the original Waltham to had sent it to Germany to fix an intermittent glitch with great results so I contacted him to get the details of the German watch doctor and was all set to package it up and sent it off.
And it started working.
Bizarrely, and without warning, it decided to fire up at around 10am one day all by itself. Everything worked too – the alarm, the animation, every LCD segment – it was unbelievable. Set the time and date and tested the alarm functions and it didn't miss a beat. I'm very glad, mostly because they are rare enough anyway, without being rare AND non-working. So a great result, and now the Waltham resides beside the Nelsonic – two Southern gentlemen!
UPDATE: This was never going to last! The Waltham gave up the ghost after some bizarre behaviour, dropping various segments, changing the time on its own, randomly sounding the alarm and finally died. So it is on its way to Germany to see if the LCD watch doctor can find a cure!
EDIT: And just when you think you know just about everything about a certain watch, you get surprised again. It turns out Armitron also produced a version of this watch. Armitron did do some cool versions of other people's watches (like a dual-melody clone of Seiko's A239 World Timer) so maybe it shouldn't come as a surprise after all.
And here it is, the Armitron Animated Watch. Found this one in gold on eBay. There may have been a stainless version and since I didn't know this one existed, am the wrong person to speculate 😉