Sexum XXX animated watch
Posted on 3 Apr 2011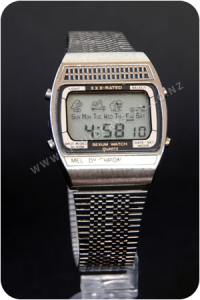 The Sexum XXX animated watch, produced by Cheong Koon Co. Ltd. dates from 1981 and is, without doubt, one of the most unique and unusual LCD watches ever.
There are a number of features that set it apart from most other LCD watches from the early 1980s, not least of which are the dual LCDs that make up the display. Double-layered LCDs were seen in a few watches, among them the Nelsonic Space Attacker and Pulsar invader-style game watch where the entire display was replaced when entering a certain mode.
To accomplish this, the LCDs were placed on top of each other with one line of contacts available for each (one top, the other bottom). More sophisticated LCDs required the top and bottom lines of contacts to control a single LCD, but the dual LCDs were an inspired design decision and one that wasn't repeated in many watches (cost being a significant factor).
The other unique feature of this particular watch was the nature of its animation. There are few animated LCD watches from this era which aren't games, and those that there are are generally triggered by the alarm going off.
Outside of this one, and the Nelsonic/Waltham Dixie Cannon watch, there isn't much in the animation-only sphere, but this is the only one that you wouldn't show to your grandmother!
That"s right – an LCD watch with pron! Well, kind of. Apple computer fans (I mean old school fans – ][+ and ][e style) might remember an app called French Postcard from about 1982 – it's kind of like that.
Boy meets girl, clothes are shed, and some very consensual activity is undertaken.
And all to the tune of the Can-Can. At least that's all I thought it was, before finding my third Sexum-style watch which played not only that famous French tune, but also another – La Marseillaise – the French national anthem! That certainly came as a bit of a surprise. The manual gives nothing away either – very nondescript.
The animation repeats a couple of times while the alarm tune plays (you can also trigger it without setting the alarm by pressing the two right-hand buttons simultaneously.
Production numbers of this odd and unique watch vary greatly – one ebay auction stated (quite authoritatively) that only around 600 were ever made but I suspect this may be a few thousand short. The cost of producing this watch in such low numbers would have been prohibitive for the manufacturers, despite being located in the hub of 'copy watches' at the beginning of the 80s.
Even so, they are very hard to find today. I've been lucky enough to own three (almost four) of these conversation pieces – the unlucky fourth was sent from the US but never arrived; possibly a dodgy postie or letterbox thieving neighbour is sporting one of the coolest examples of 1980s tack on their wrist instead.
This is possibly the only LCD watch with such a risque display – several LED watches from the late 1970s had a 'secret' option to display a 'Let's F*ck' message (along with some tamer messages) and one such LED watch even allowed the wearer to programme their own message onto the display.
I've another LCD watch with 'Time to F*ck' on the crystal but not part of the LCD itself; likewise, there's an analog variety of watch with a sweeping black disk that reveals the 'Let's F*ck' message for 10 seconds or so each minute.
The Sexum XXX animated watch though is in a class of its own. Check out the original advertisement for the watch, and also a review from 1982's Infoworld magazine – and keep an eye out at garage sales, flea markets, and anywhere old watches tend to gather; you never know how lucky you might get!
VIDEO:
STATUS: NOT CURRENTLY FOR SALE