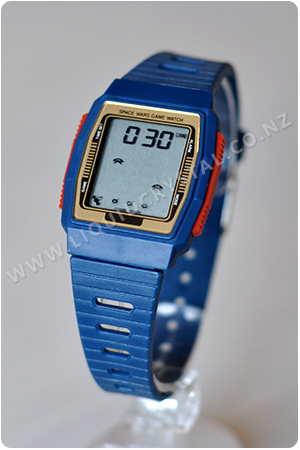 Most infuriating game watch ever!
Even without a manual, you can usually work out how to play any game in a watch — they're not exactly designed to be difficult to work out. Except for this one —an unbranded game watch called Space Wars.
The case is generic, and would have been available for resellers to add their brand to — one such reseller was Conso, who also sold the popular Space Shuttle game watch, another was Zeon.
Even with the manual, the game never seemed to play properly (and reports from others who owned this watch seem to back this up) so possibly it was faulty from the beginning, or produced in such low numbers that everyone with this complaint has been using an identical watch.
Which is a great shame since the game looks like a good derivative of Space Invaders, complete with bases.
There's an alarm function too, but much more than that I can't remember since I moved this watch on quite quickly when I couldn't get to grips with the game. Perhaps one day I'll find a working one and will have that lightbulb moment when I realise how the game is meant to be played…