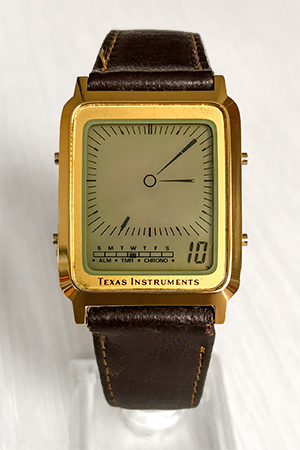 Texas Instruments was a major player in the late 1970s and into the 1980s when it came to producing great digital watches — take a look at the ad at the bottom of the page from this time period:
This watch is called, according to the manual, Texas Instruments Quartz Analog Chronograph and on the back of the manual in large print it says N14; so I'll just call it the N14.
A nice example of a digital hands watch, this one features time and date, alarm, hourly chime, countdown timer and chronograph – plus the obligatory nightlight.
It arrived non-working and the battery compartment badly corroded from an old battery (potentially it was the original battery from 35+ years ago) so required some repair.
The inductor coil, that boosts the voltage making the alarm sound was broken so I'll have to repair that some time – but it's connected with wires thinner than a human hair so requires a lot of patience and a steady hand — plus I have to find the same size inductor from another watch. If it's just a little bit bigger the module won't reassemble properly and could lead to more problems (like not all LCD segments lighting up).
It's really a beautiful looking watch, in gold with the original brown leather strap, and with very little wear.
Texas Instruments were really producing some high quality LCD watches but lost their way a little when they decided to make cheaper watches and sell more of them, ultimately leading to a higher market share but lower profits, so they got out of this market some time toward the mid-1980s.