Back in 1983 you could have picked up a nice Wilman watch from Argos with alarm, stopwatch etc for the bargain price of £8.99. But add an extra quid and you could have had this — the Wilman Programmable Melody Watch, similar but different to the Odyssey Status of the same period.
Seriously — a programmable watch for less than a tenner!
Without a manual, programming the melody is hard work. It's not that it's not intuitive, it just takes ages. Forget that, it's totally unintuitive too.
If you can get the hang of it, though, you can create nearly any melody (albeit with the limitation of 20 notes, and possibly having to enter it in a different key than the original).
It has a built-in melody too — Mozart's Rondo Alla Turca (Piano Sonata No. 11 in A major) — which I haven't heard in a melody watch before, and marks a difference between this module and the Odyssey whose built-in melody is The Sound of Music.
This has a more traditional button layout too; the Odyssey has a single side button (for the light) and the other three are on the front of the watch.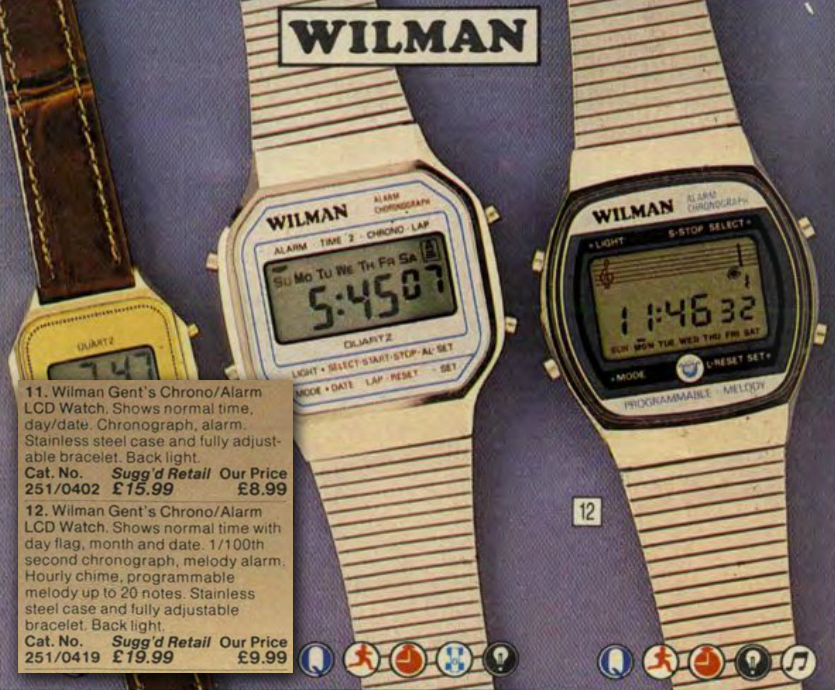 Like the Odyssey, this has the small but welcome feature of being able to select between American/British date format — an unusual option only found in a very small number of watches of this period.
I haven't seen another of these; the Buler (also a rarity) looks identical to this other than having a slightly different graphic on the crystal (pic from newdwf.com)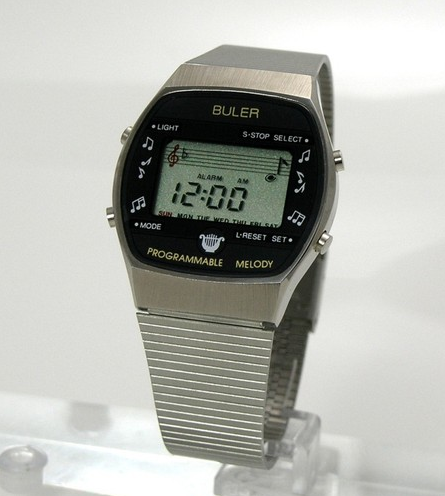 You may also like: