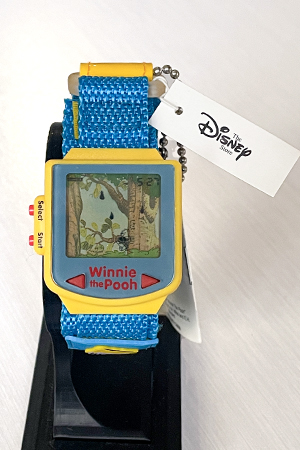 From the earliest windup Mickey Mouse watch, Disney have made a tonne of timepieces and sold them to tourists visiting their theme parks and themed stores around the world.
Surprisingly, though, very few of them have been game watches and this, the Winnie the Pooh game watch, might be the only one.
That's not to say other manufacturers didn't make Disney-themed game watches (Alba have done a few) but not the Disney corporate so much.
This watch features 12/24 hour time, an hourly chime, daily melody alarm (London Bridge is Falling Down), two games (game 2 is a faster version of game 1) and sound on/off.
In the game you play Winnie the Pooh and have to catch the falling honey drips in your honey pot. You have three 'lives' where you can miss catching honey three times before the game is over. At 200 and 500 points any accumulated misses are cleared  There is a special honey pot that appears at right periodically giving more points otherwise it's one point per honey drop.
So gameplay is identical to Submarine and the other games in this series.
It's a unique looking watch and case – case quality feels much better than Submarine and its other clones, and the velcro strap should fit any wrist large or small.
I won this on eBay, in NOS condition with instructions and case. Pricewise these can easily jump into the hundreds and, while not rare, finding one for a reasonable price is just good luck – good luck!
You may also like: